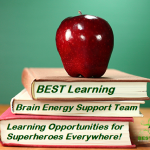 Happy New Year! And welcome to our totally revamped and easy-to-use learning website.
Education is an integral part of what BEST is about. We've been providing quality learning opportunities since 2011. We offer a variety of classes, workshops, and small group activities for individuals with brain injury, caregivers, and professionals. Now we're offering many of these activities online.
We've created this dedicated website for you to enroll in and enjoy amazing online classes. Many of the resources you've come to count on at our BEST website will be moving here.
Our BEST Online Learning Center is a vital part of our mission to provide opportunities to the brain injury community. Our Learning Center is also the next step in our vision of empowerment for all those who struggle with the challenges that come with brain injury and their families. It's also another step in providing insight and information to professionals and medical service providers.
So, settle in, look around, and learn what you want, your way, and at your pace.