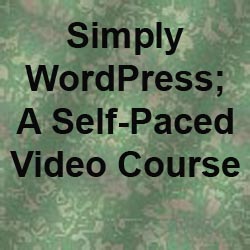 Course Dates: Open-ended
Enrollment Dates: Enroll Anytime
Who can Enroll: Anyone
Course Language: English
Price: FREE
About this course
WordPress is a popular platform for creating awesome websites. Did you know almost a third of all blogging sites are built using WordPress? There are thousands of themes. plugins, and layouts to help make your website look and function exactly as you want. One of the best features is that WordPress is free and so are many of the available themes and plugins.
We can't promise you'll be an expert after you take our video course, but we do promise you'll know enough to comfortably manage your own WordPress site.
This self-paced course is a series of introductory, easy to understand tutorial videos that explore the rich features of WordPress and how you can make the BEST of them.
Each video in this series provides tutorial instruction on a specific feature of WordPress.
Course Outline
I.  First Steps To Administering WordPress
II.  Managing Your Blog Posts
III.  Managing WordPress Pages
IV.  Managing Media
Course Structure
First Steps To Administering Your WordPress